It's all about the journey. And this one was eventful.
Here Dan talks us through his personal journey to the finish line at Ironman Tallinn, Estonia 2020.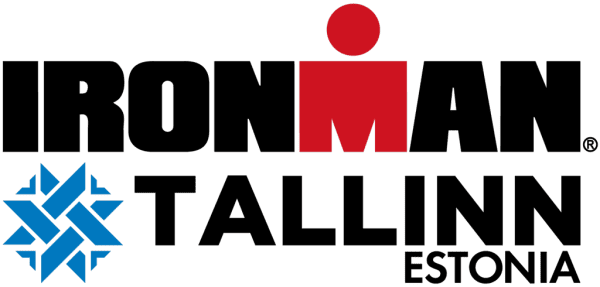 The plan for the previous 14 months had been to become an Ironman in Thun, Switzerland in July 2020.
I had been pretty focused/ obsessed with that.
Covid -19 blew a big hole in that in that plan in May when IM Switzerland was cancelled along with just about everything else.
Something inside told me to keep training hard. I had Outlaw X in September and in reality, training was the only thing likely to keep me sane in amongst the madness that this year has brought upon us all.
Early August, talks with the Rutherford suggest that his IM race in Tallinn, Estonia may well proceed. Covid rates there were low and UK rates were low enough to allow unrestricted travel into Estonia.
Over a 24hr period, the idea festered in my head, suitably prodded and poked by Matt.
I can clearly see me standing in my garden on a sunny Wednesday afternoon, in isolation following a return from Spain, phoning Jon and floating the concept.
'Well, you can do it, it won't be pretty, but you can do it' was his response. 'Will be a pretty intense few weeks to get you up to speed'………..
Flight searches, accommodation pricing and getting the green light from Domestic Operations to spend our 22nd wedding anniversary in another country, racing instead of a candlelit meal ensued.
So, four and a half weeks before the race, I signed up, booked flights with Finnair via Helsinki and booked accommodation. What could possibly go wrong?
Well, turns out a lot could go wrong. Finnair cancelled the flights, UK Covid rates  went through the roof closing the travel corridor to Estonia and meaning a 14 day quarantine on arrival was compulsory, I threw myself off my bike on my last big training ride 13 days before the race, causing  bruising and swelling like I've never seen and a general inability to walk. The consultant said 'don't race'. He doesn't know me.
New flights from Stanstead with Ryanair, bike in a van with John Thelwell, Estonian government changing rules for IM participants to allow entry if Covid tests taken before departure and on arrival, 10 days of ice baths, bike fixed, new helmet, Paul and Karen joining the disco and Jon deciding a weekend away was a good idea meant we arrived in Tallinn on the Tuesday night before the Saturday race.
Tallinn is an amazingly beautiful place and with low Covid numbers, no one had masks and hand gel was non existent. Felt like normality.
The next few days felt like forever, waiting for Covid test results and having to pass temperature checks every five minutes. Some gentle runs and a ride out on part of the course and a swim in the lake settled the nerves.
Thursday was a milestone with the medical checks passed and registration allowed.
Friday meant more health checks at bike racking. I was delighted to pass the last check at transition. All seemed good in the world.
That was until I asked the bike mechanic to look at my bike as it was making a funny grinding noise, which started the day before. He causally told me that the rear wheel bearings were 'destroyed' and that there was no possibility of getting them repaired before the race. He did however say the bike 'might be alright to get me round the course'. Good news then. I decided I couldn't worry about that as I couldn't do anything about it. Disappointing after it being fully serviced before departure. Calls to the bike shop in Widnes offered little reassurance.
Jon looked me in the face at 06.50hrs and told me to stick to the race plan, told me that I would complete the race, but above all, enjoy it. That meant an awful lot in that moment.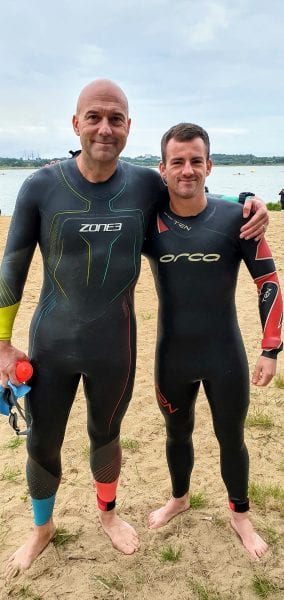 Matt and I stepped into the water seconds apart, at around 07.20hrs. Jon, Karen and Paul were all at the waters edge. I felt calm. I felt ready. I knew that barring any major technical issues, I was going to finish this whatever it took.
I actually enjoyed the swim. The water was cool but not cold. It was green but not unpleasant. I soon settled into a rhythm. It felt good. I felt comfortable. I focused only on the next race buoy, then the buoy after that. I had been clear with myself that the only person I was racing was myself, especially as it was clear in the preceding days that most 'weekend tri warriors' had taken the deferral option and the race field of circa 700 consisted of reasonably serious competitors. Always nice though to be going past more people than pass you.
I first glanced at my watch at around the hour mark and consciously decided to step the pace up if I hit my target time of sub 1hr 20m. I did start to feel fatigued and when I got out of the water at 1hr 18m, I literally stumbled into transition, a moment captured for all by the race photographer.
Was nice to see Matt in transition. Only slightly ahead of me. He's a better swimmer by a long way and he was only just ahead of me in terms of transition. I took comfort from that as I shoveled some food and liquid in, took a tactical 'break' whilst putting my shoes on before heading out of transition.
Jon, Paul and Karen were all there as I crossed the bike mount line, with Jon shouting 'bang on plan'. Again, another confidence boost.
I decided to not worry about the bike. What will be will be at this point. Ironically, the noise had gone and it rode like a dream. I had decided to break the ride up mentally, not necessarily by distance, but by points on the course. I had memorized key points on the route and knew roughly where they were distance wise.
I loved the first half of the ride. I felt good, I stuck to my nutrition plan. The roads were smooth and largely flat. Some people passed me, so what? I passed some people. I was keeping a good pace and it felt right. The scenery was beautiful and there were some music tents and cheerleaders at pivotal points to lift the spirits.
I hit the half way mark at circa 2hrs 45mins, ahead of where I thought I'd be (circa 3hrs). Riding into town just after the half way point was amazing. Seeing Jon, Paul and Karen all offering encouragement and having real enthusiasm was such a lift. Genuinely felt on top of the world. Legs felt good, head felt good. Weather had been dry and warm with little or no wind. I hadn't seen Matt but knew from what Jon said that he was not that far ahead of me and we were pacing almost identically.
Just when I thought it was all going a bit too well, as we left Tallinn city on a dual carriageway closed road, someone turned the wind on. From nowhere, there was this really strong wind directly in my face and I had to grind the pedals whilst out the seat over a flyover. The next 10-15 miles were all up a steady long uphill. It hurt. The legs hurt, the head hurt (questioned my fluid intake) and the mind started playing games.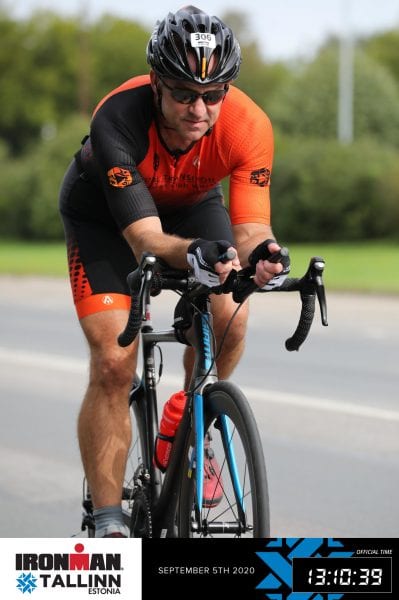 I passed Matt at the side of the road but it was clear he had stopped for a comfort break and there was no bigger issue. This gave me comfort that we were still racing at a similar pace. He subsequently passed me as I utilised the facilities but I didn't know this until I got off the bike.
In the second loop, there were long stretches into the wind. I had spent a lot of time down on the bars in the first half but my back was suggesting otherwise post 60 miles. I started lamenting lack of core work and my hip and large hematoma (bike crash fallout) started making themselves known.
The two food/ drink aid stations on each lap now seemed inadequate and I went a long period with empty water bottles.
The last 7 miles back into town seemed to last forever and as I entered transition and got off my bike, I was in no doubt whatsoever about the task ahead. Bike done in 6 hours. I was tired but ok. It took some time to get going on the first of the 4 laps.
The run was far from easy. It was anything but flat with some undulating hills, two large climbs into the old town and a long section on cobbles. Things were spiced up shortly after I began the run with biblical rain and a significant drop in temperature. Large sections of waterlogged areas.
I paced well in the first two laps and then realized that some walking was going to be involved. Indeed, at one point I was walking with a silver survival foil wrapped around me.
More than ever, I shut my mind to other runners going past me, other runners with more lap bands than me and people pushing their bikes past me on their way home having finished the run, collected their stuff, had a meal and headed off.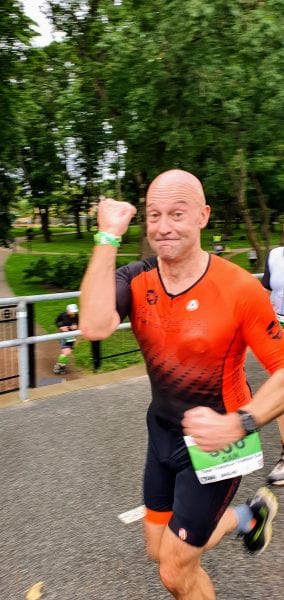 Getting updates and encouragement from Karen and Paul was immense.
Jon was beyond amazing. On his scooter, he kept appearing at key points, being calm and encouraging.  Passing messages on from people, including Amy was epic.
In the latter part of the run, it just became about finishing. I never doubted for one moment that I would finish. It never crossed my mind to stop moving. I had come too far and gone through too much to fail.
The red carpet was one of the best moments of my life. As neared the end, I could here the noise and my pace picked up.
It was everything I had dreamt of. Everything I wanted. In that moment, I realized that it is true; it's all about the journey. The finish line is the reward.
13hours 10 minutes.
Those few days will live with me forever. The support, the friendship and emotions. It wouldn't have been the same without Matt. It wouldn't have been the same without Karen and Paul.
Having Jon there to support, offer advice and see me finish this part of my tri journey was immeasurable.
For anyone who has done one, respect. For anyone thinking of doing one, book it.
For me, let's go again, Thun 2021.