Dom has just sent us the fantastic article about his recent little swim!! Enjoy
---
After some cajoling from a fellow club member at the weekly club swim session, I entered the 2019 Big Brutal Swim in Llanberis, Wales. It felt good, and a little nerve-wracking to commit to such an event. Aside from swimming in the sea on holiday and the occasional 'dip your toe in' to various lakes and rivers, I did not have any experience swimming in open water. The weeks passed, and it soon dawned on me that if I was to keep to my commitment, I'd need to buy a wetsuit. After trawling online, I found one for a decent price in a size I thought would suit. Of course, it had to go back and the next size up was bought. No one tells you how tricky they are to put on at first, but you soon get the hang of it. So now, I was ready. Wetsuit. Check. Goggles. Check. Two swim hats. Check. (Two? Yes, two, to keep your head warmer). I had heard good things about a fairly nearby venue, Oakmere, that held an open water swim session on a Sunday afternoon, starting at the end of spring.
The first session was a baptism of fire. I thought it would be cold, but not so bone-chilling as it was. Nevertheless, I was determined to get round the course once on my first trip out. Walking out into the lake, it was unsteady underfoot, the water bracing but the sun was out and my fellow swimmers seemed in good spirits. I began by walking out to the start buoy, and noticed that as soon as your heart submerges underwater, that's when you really feel it. That was most certainly true. I decided to just get going, joining a crowd of fairly capable swimmers. After about 100m breaststroke, I tried to put my head underwater, lasting all of 5 seconds before having a mild panic attack and resurfacing to regain my dignity and continue my breaststroke. I eventually got my head underwater and broke into a front crawl about half way round the course. It was such a good feeling to think that I could do it. Visibility wise, you can't see a great deal underwater, bar the odd reed. Sometimes, you enter a semi-meditative state, whereby all you're really thinking about is swimming. Suddenly, a swimmer will pass you and suddenly you panic, for no good reason. But, on you go, undeterred and resolved. I got round the course, and felt great, a proper endorphin buzz, the likes of which come from a good spell of exercise. On the drive home, I really had felt like I'd achieved something.
Over the following Sundays, I gained more confidence in going round the course, eventually managing three laps of 700m each in around an hour. I sometimes had to peel myself away from barbecues, or England's fantastic ICC World Cup victory, but it all felt worthwhile once I got out to the lake. I also continued the weekly coached pool swim with the club, where helpful advice for open water swimming was readily gave out. Whenever I had a question, the coaches were always on hand to help out. It's important to get out a few times a week at least, and the patience of the coaches at the pool coupled with their in-depth expertise really helped.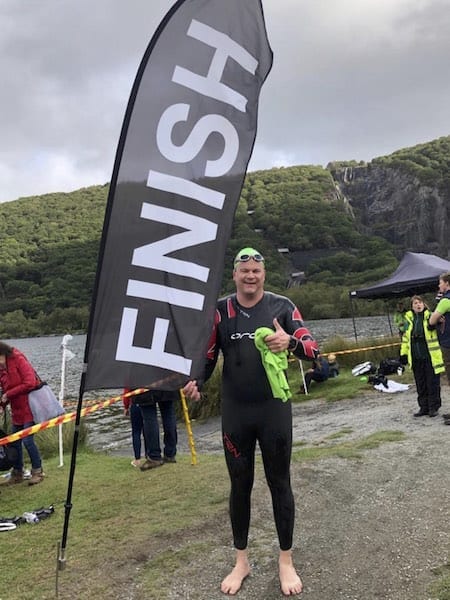 Race day eventually came round, having been postponed initially due to inclement weather. My friend at the club who got me into this unfortunately could not make the second date, so if you're reading this, your turn mate! The drive up to the Snowdon range was impressive. Dramatic, imposing but stunning scenery to set the tone for the day ahead. After a race briefing and catching up with a few other club members taking part, we were off. I stuck to the back of the pack and allowed time to adjust to the water temperature before starting crawl. It seemed to take forever to get to the first buoy, like some mirage in the distance. Eventually I rounded it, then the next, but as I swam to shore a marshal kayaked over to warn me that swimming in a straight line, as I was attempting, would only pull me way off course. It was a moderately windy day so that had to be factored in to the rest of the swim. I got the end of the first 1250m lap and felt quite good, but on setting out for that distant buoy again the wind whipped the lake, and it really only became feasible to breaststroke. I saw the swimmer directly ahead of me diving headfirst into each wave then taking a stroke underwater before repeating the action again, so for the next 250m I did the same. Eventually, I started to crawl again and swum with consideration to the wind. I finished the 2.5k race just outside the 1 hour 15 minute mark. I was so pleased to finish, and all the Sunday afternoons driving to Oakmere paid off. It was great to see the other TTT members at the finish and congratulate each other, and it was time to get warm, and head home, to a much welcomed bath and shower!
I thoroughly recommend having a go at open water swimming. It's very rewarding and a great alternative to pool swimming, especially in spring and summer. I'm hoping to do another open water event this year, let's hope the British summer properly appears this year! And don't be fooled by the name, it was a big swim, but it wasn't totally brutal, honest!!!
Dom
---
Thanks Dom. Brilliant effort and some awesome pics.