Most improved athlete of the 2021 season, Donna Adlard, gives us her story of how it all started and of her first ever triathlon.
I started running about 4 years ago, initially just for fun but then gradually started to do some competitive races. At races, mixing with other athletes,  there was occasionally talk about triathlons but the idea of actually doing one never crossed my mind, not even for a second. Partly because I didn't own a bike and secondly because I've never been able to swim more than a couple of lengths and the thought of putting my face in the water genuinely terrified me.

This all changed when I happened to run with a couple of members of Total Transition Triathlon Club. To cut a long story short I was very kindly offered the use of a bike and was taken out for my very first ride. I loved it and cycling soon became another string to my bow. The final piece fell into place when I was offered the chance to take someone's place and compete, as part of a team of 4, at a super sprint triathlon at Cholmondely Castle. The thought of the swim immediately put me off but the short distance of 250m seemed do-able. It's only 10 lengths, so how hard could it be!?!

I became a member of the Tri Club and started going to their swim session on a Wednesday night. Because of COVID these sessions were uncoached, but with help and tips from other members I started to make progress. In May, coached pool sessions were allowed again and I started getting a little better each week and my confidence grew. On a bit of a high I joined some of the members for an open water practice swim at Manley Mere. I hated it and couldn't even make it half way to the bouy, never mind there and back which would have been 250m. I remember talking to Jon on my way home practically in tears saying I just can't do it. There were 3 weeks to go at this point. Jon reassured me that I could do it and after a meeting with the other team members, who made it clear there was absolutely no pressure and the whole idea was to enjoy it, I was back on board.
Race day came and I was relatively calm until the race debrief. The Marshall was pointing out where we had to swim to and I felt a huge sigh of relief as it didn't look that far at all….until I noticed a canoe pulling the buoy further down the lake and my heart sank. I really couldn't do this. I distracted myself by cheering on my team mates. I was third to go and was in the changeover box cheering Paul Avison as he ran towards me until it hit me that this meant it was my turn.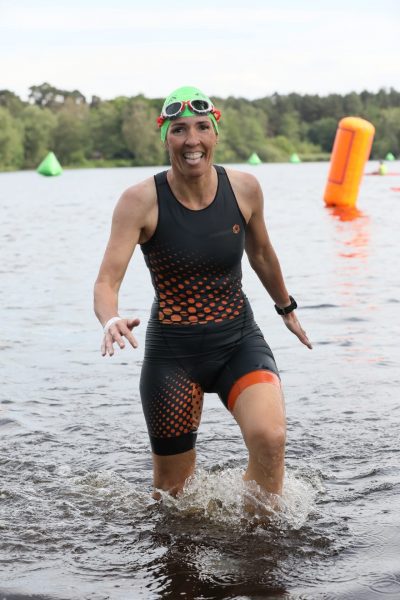 Paul tagged me and I set off towards the lake and switched off from everything around me, I didn't even hear the entire club support team screaming that my goggles were still on top of my head as I entered the water. Jon had spoken to the safety Marshall that this was my first swim and how nervous I was so I was reassured when a safety canoe escorted me through the entire swim. I'm not sure how, but somehow, I got through it and I was climbing out of the lake feeling a massive sense of relief.  I had completed the swim! I ran to transition where everyone was waiting to guide me through the process of getting ready for the bike and I was soon off on my way, my ears still ringing from the shouts and cheers of my team mates. The bike was over in a flash, I hardly even remember the course as I was on such a high. The second transition went smoothly, again guided through the process by the rest of the team and before I knew it I was onto my run. I remember an uphill and a downhill but again it's all a bit of a blur. I saw Mike Webster waiting in the handover area and that was it, my part in the team triathlon was complete although not fully over. The best bit was yet to come……….
Michelle Moss, Paul Avison and I waited towards the finish line for Mike to finish his run before joining him, running together, hands held high in the air and huge smiles on our faces. This was what it was all about, what an amazing day being part of an amazing club. I honestly couldn't have done it without them.