Continuing with our series of race reports from those lucky enough to have been able to wear the black & orange kit in an actual race during 2020, here's Matt's story about Outlaw X Middle Distance Tri which was just 3 weeks after IM Estonia.
Still on a high after a great performance in Estonia, the reality of racing again so soon meant there were some big lessons to be learnt from a chilly day out in Nottinghamshire.
17th July 2020.
Dan: Get signed up for Outlaw.
Me: Done.
We all know how strange 2020 was. As a full-time student who couldn't complete my clinical placements, I was at somewhat of a loose end. I was training like a pro-athlete, but without the money, or the training plan. So basically, no goal and no clue.
All races were deferred for the year, including Ironman Estonia. It had been the goal since August 2019; when I heard about Outlaw X, a middle distance triathlon in the grounds of Thoresby Park, Nottinghamshire, I jumped at the chance. Finally, a race to look forward to! However, COVID infection rates in Estonia were very low and the race had been rescheduled for September. I began weighing up my options.
3rd August 2020.
Me: It's happened, Ironman let me transfer my entry back to this year. 33 days to go!
Dan: I assume it's sold out????
Me: I think there are still places available…
We all know what happened after that (see Dan's blog).
Fast forward to Saturday 26th Sept, I was sitting in a seedy-looking Italian restaurant with Mr and Mrs Thompson for what had become traditional pre-race pizza. Dan also thought it would be a good idea to order cheesy garlic pizza for the table. Thanks Dan, I'll definitely need to keep a pint of water at my bedside. There were a lot of war stories of Estonia, good times and bad. Mostly good, we were still riding that high (I'm sure Amy was just bored).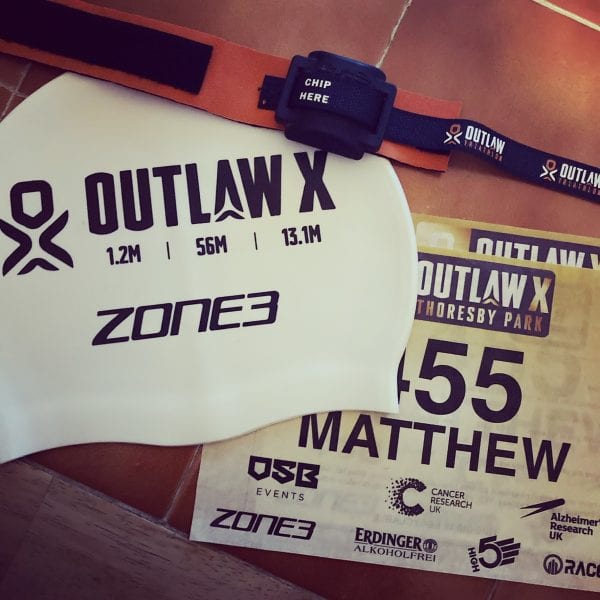 That same high was masking the uncertainty of my body's ability to actually complete the 55 mile ride. Nerves and adrenaline can get you round the swim, and after bouncing round the marathon in Estonia, I knew bananas and flat coke can do the job for me. I should have been more concerned about the ride. The temperature was due to drop to a fresh 12 degrees with some significantly higher winds than I usually like to ride in. While driving the bike course earlier that day I couldn't help but notice some very open roads. Oh, and lumps. Don't forget the lumps. My biggest climb in altitude in Estonia was the flight of stairs out of my (possibly haunted) basement bedroom. I wasn't mentally prepared for rolling hills in the English countryside.
Similar to Estonia, there was a lot of stress and uncertainty on social media about whether the event would go ahead. New government restrictions were being announced which could stop people from travelling, or worse, the race being cancelled. It seemed everyone on Outlaw's Facebook page were worried. Except for two people of course. We were fortunate to have done our big race; for nearly everyone else, this would be the only race of the season. However, nothing was cancelled and I was blissfully unaware of the pain lying ahead. That night in the 'pizzeria', we kept telling ourselves we'd take it nice and easy, just enjoy it.
I returned to my Airbnb for a good night sleep and plenty of hydration. Then the email came through. Due to the drop in temperature, the swim was being cut short: 1.2 miles to 750m. I was disappointed because I like the swim and wanted to complete the full distance. But the main takeaway from the email was something that I had been trying to ignore; the water was going to be cold. I felt like I was starting to come down from that high. No sense in worrying about things out of my control, get to sleep.
I met Dan in transition amongst a sea of masked faces, we had dropped our bikes off the day before. One of the things I love about triathlons is the morning prep in transition. The anticipation and buzz shared by everyone around you is a special feeling. In an impressive display of OCD, people are lining up shoes neatly alongside socks, gels and snacks. Beautiful, everyone has their system. It was nice to spend time in transition noticing these little things, I was feeling fairly relaxed. Maybe too relaxed.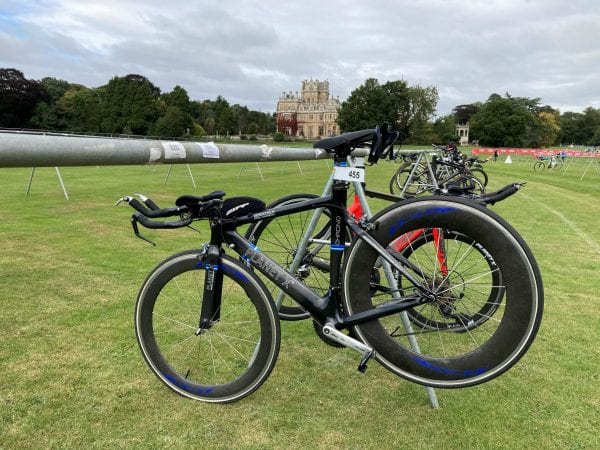 It was nice to see so many professionals racing, they had left on the bike leg long before it was my turn to walk down to the lake. Dan was in a different wave starting just after me. We said good luck to each other and I joined on the back of my wave of white hats. I immediately took note of the long walk down to the lake. It would have been nice to have a proper look yesterday. I'd definitely been too relaxed. I told myself it didn't matter and it wouldn't change anything. I eventually joined the queue at the lake. It was a cloudy day and very windy, the water looked cold. We slowly moved towards the pier, a few seconds between each person getting in.
I've never been one for jumping into a lake. As I got the thumbs up, in one smooth movement, I sat on the edge of the pier and slid into the water. I had a split second to think about the damage I could do to my wetsuit, then the cold hit me. No time to think about splinters in my bum, just start wind-milling the water to warm up. Once I got going, I didn't have any problems with the temperature and I actually enjoyed it. It was a nice lake, you could see the bottom in some places and in other places you had to wrestle with weeds. It was my first swim in 3 weeks since Estonia; I wasn't at my quickest, but I wasn't here to break any records. After 14:32, I climbed up the ramp and started following the others in front of me; I didn't remember it being so far back to transition. I wanted to keep my transition times quick – something I have often struggled with. But there wouldn't be any transition PBs today. As I headed down the row to find my bike, I had some navigation problems. I remember reaching the end of my row thinking, my bike definitely isn't this far down here. I did a U-turn and felt like I was on a walk (or run) of shame. Nightmare. Found it! Quick change and a laugh with my neighbours, grab the bike and get going. T1: 7:49.
I settled into the ride quite nicely. The route was a large loop, with some roads being closed to traffic. I had made a mental note of landmarks, inclines and declines from my drive the day before. I expected that I would be close to my ride PB time of 3 hours, which was set at a middle distance race in the Cotswolds the year before. But I hadn't taken into account the hills or wind in Nottinghamshire.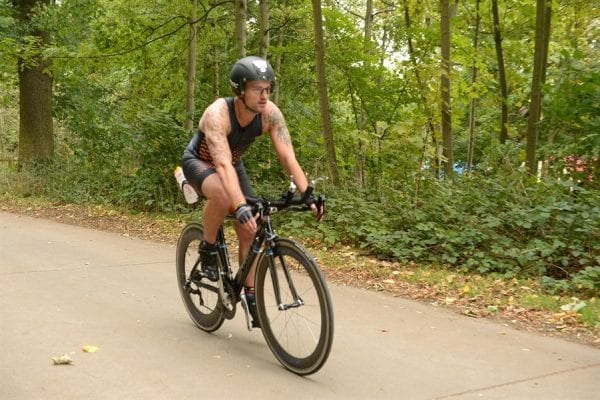 The open roads were very windy, I was getting pushed around by sideways gusts of wind, not fun. As I passed 2 hours, my legs were feeling heavy and were working hard. You have a lot of time to think about things in these situations. I had more negative thoughts going through my head than I did during a 6 hour ride in Estonia. I knew that wasn't good, I realised how under prepared I actually was and that maybe it takes longer than 3 weeks to recover from an Ironman. All that being said, I was here now and I just had to get round the course. Keep pedalling. After a long 57 miles, I dismounted on 3:09.
I was feeling it now, my body was tired. Running shoes on, grabbed my gel blocks, out of transition in 4:31. I didn't care now, I just wanted this to be over. No smiles, it was time to dig in. The run route consisted of a 3 lap course, mostly on undulating trails and some tarmac in Thoresby Park. There was a good amount of support on the route; including Mario, Luigi and a Grim Reaper. The latter didn't shout or cheer, he just pointed at me. Awesome, maybe he could sense my pain.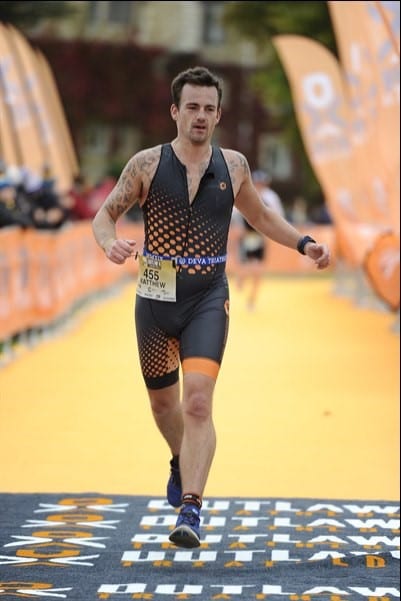 There were a few points on the route where you'd pass runners going in the opposite direction, I often looked out for a bald guy in a black and orange tri-suit. I knew he must be feeling rough too, someone to share my misery with, just for a brief second. No sign though, just crack on. I kept an 8-minute average mile pace during the first lap but that dropped on the second lap to 9:30 pace. Mentally, I felt good. I usually start to feel hazy at this point which effects my pace. That's ok then, it's purely a physical problem! I took this as a good sign and had a word with myself, lets finish strong. Each mile in the third lap progressively got faster as I focussed on the finish. Running up the orange carpet was a huge relief. No tears or fist pumping, it was done in 1:56. Total time was 5:32.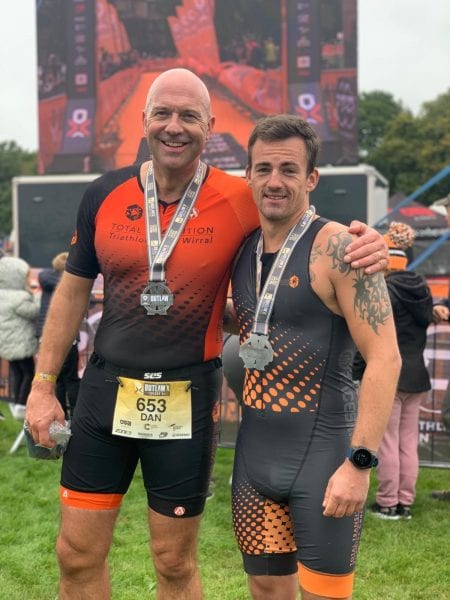 I went to transition to grab some warm clothes. I heard somebody shout "wait till Jon Fairhurst hears you ran past your bike in T1!". Great. You literally can't go anywhere without bumping into someone who knows that guy (Jon's comment: there's no escape from my eyes! ). I found Amy next to the orange carpet, we waited for Dan together. We soon spotted him and cheered him down toward the finish, he looked how I felt. We were all smiles once it was over, but there were definitely lessons to be learnt. Don't underestimate rest. Make sure you're mentally prepared. Cheesy garlic pizza is not an appropriate pre-race meal.